Landing Page - Everything You Need To Know
2022 is approaching, and it's time for you to step up your business in the digital sphere. Maybe you already have a website for your business and it's time to redesign your web layout. Or perhaps you're second-guessing whether you should create a business website from scratch or just build a landing page to generate leads online.
In this post, we will talk more about landing pages with some recommendations for the best landing page builders that you can use for your business.
Not to be mistaken with your website homepage, the landing page offers so much more.
Unlike a website where you can add a few pages with information about your business, a landing page is created specifically for your special offer to generate sales or leads.
When it's done right, a single landing page may encourage your target audience to take action on your offering. So, here are the things you need to know about building a landing page for your business!
What is a landing page?
A landing page is a standalone page that serves a single purpose to convert your website visitor to become a customer. In the marketing realm, it will include specific elements highlighting a special offer that may attract your target audience.
Having a landing page can benefit anyone who runs their business online. Whether you run a dropshipping business or a blog, a landing page is an efficient way to generate leads by getting your audience's contact information for your marketing purpose.
Why do you need a landing page for your business?
You may wonder why a landing page is still recommended even if you already have a website.
While your website should be accessible to anyone with an internet connection, your landing page should be more targeted to the specific audience that may convert into your customer.
So, here are the best ways to use a landing page effectively for your business!
Social Media Advertising
In 2021, there are at least 3.78 billion people who use social media worldwide. If there's any platform you should game up to boost your marketing campaign, social media is where it's at!
When you run social media ads, chances are you will need to link your ad to a specific URL. And this is why building a landing page can be a game-changer for your marketing campaign.
From your audience's point of view, it will be more convenient for them as they will go directly to a specific page relevant to their interests. In this case, it will be easier for them to convert into a paying customer than just linking your ad to your business website.
Lead Magnets
Lead magnets can come in a few different forms, depending on the best strategy for your business and industry. Converting your website visitors to paying customers is not easy, but lead magnets can be effective for a successful lead generation strategy.
The idea of lead magnets is to attract your audience to trade their email for a free piece of product that can benefit them. There are some different types of lead magnets that you can offer, including ebooks, discount coupons, or even free access to a webinar.
Creating lead magnets can be an excellent way for your business to gain more qualified leads.
To make a high-converting landing page for your lead magnets, you need to focus more on what type of lead magnets work best for your business. On top of that, it is also recommended to focus more on the headline, copy, and call-to-action to use that will attract your targeted audience.
Top 11 Landing Page Builders For Your Business
Now that you know the differences between a landing page and a website, maybe you realize that it's time to game up your marketing strategy for your business by creating a landing page for lead generations.
So, what are the best landing page builders to help you start with one?
Webflow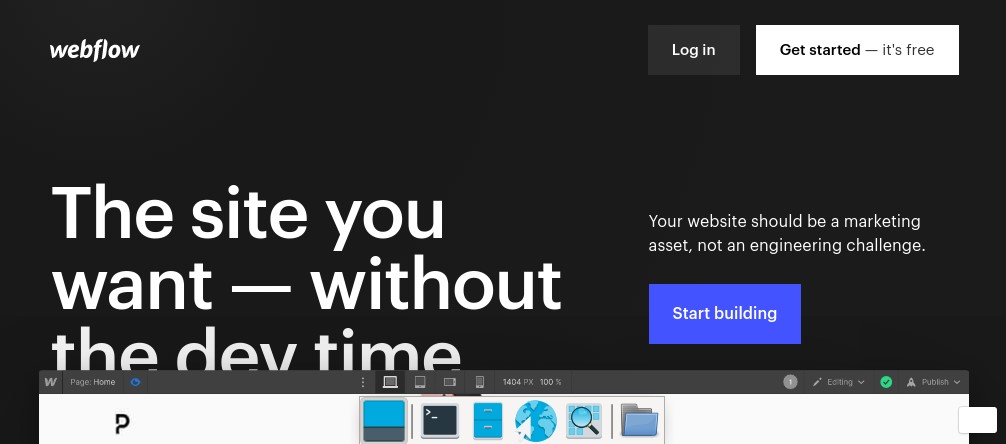 If you're not sure whether creating a landing page is something that you can do yourself, start a free trial with Webflow. Webflow offers a free plan with no trial period and hundreds of tutorials that you can take advantage of while learning to build a landing page for your business.
Used by more than 3,500,000 teams to scale their business websites, you can also integrate Webflow with platforms like BlogHandy to make the best of your blogging experience.
In addition to that, it also comes with myriads of templates that you can choose to design your landing page. A premium plan is also available, which you can adjust depending on your business needs.
Mailerlite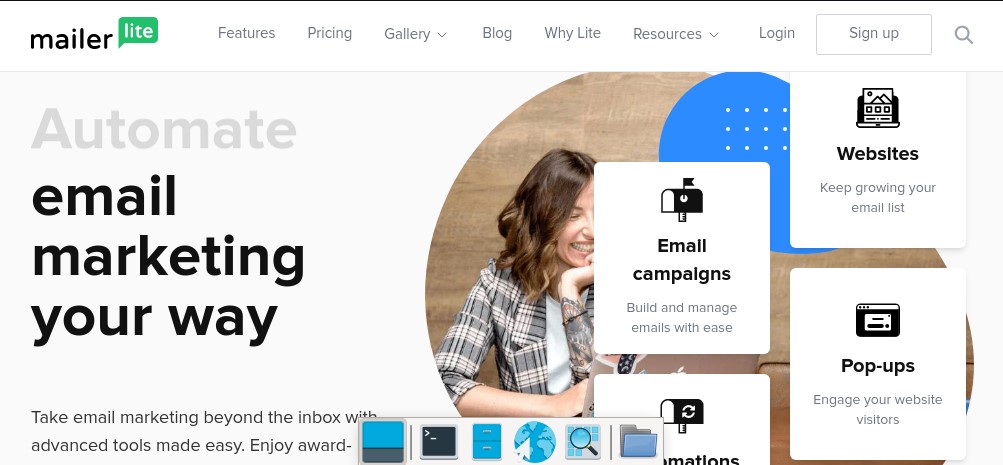 Whether you want to create a landing page for freebies or start making money directly from your landing page, Mailerlite could be the best option for you.
Not only can you collect more subscribers by turning your landing page into a high-converting signup form, but you can also start selling your digital product by integrating your Stripe into your Mailerlite account.
On top of that, Mailerlite also comes with its A/B testing feature. The latter enables you to analyze your landing page versions and get the data on the best click-through based on each conversion rate.
Mailchimp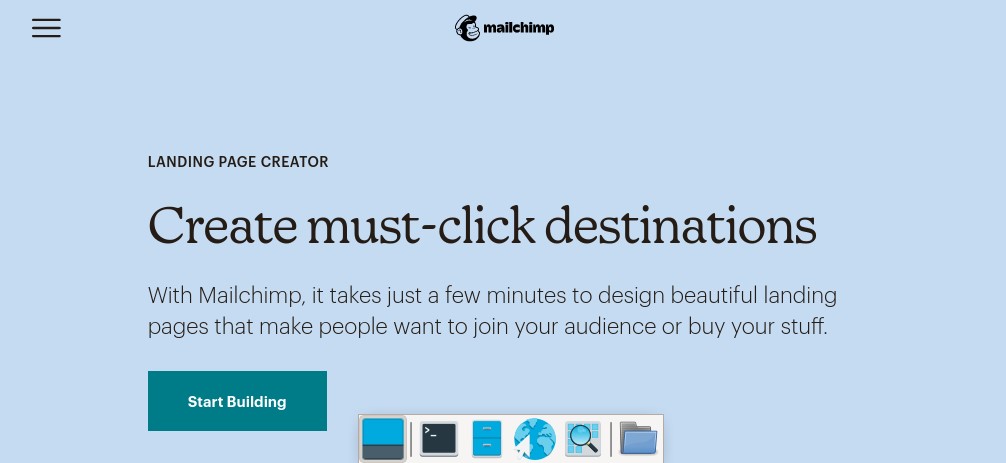 Mailchimp is probably one of the most well-known platforms to create a landing page for your business.
While the learning curves might be a little steep for beginners, Mailchimp comes with a lot of advanced features that may optimize the landing page for your business.
Whether you purchase a new domain through the platform or connect to an existing website, you can create landing page subdomains through Mailchimp's drag-and-drop feature with their unlimited ready-to-use templates.
ConvertKit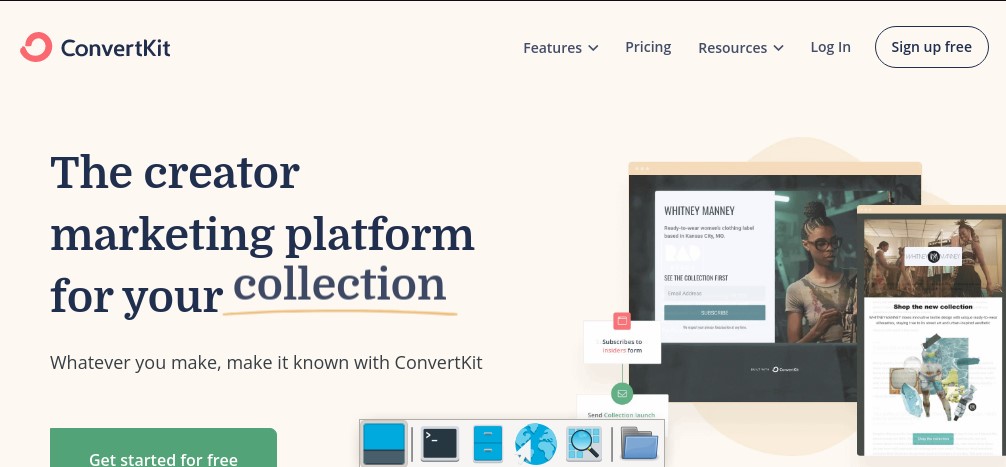 ConvertKit comes with fully customizable templates to create a beautiful signup form and grow your email list. The templates will help you get ideas even when you are a newbie with no experience building a landing page for your business.
No codes are required to create a landing page for your business. However, if you are an advanced user and designer, ConvertKit also comes with custom CSS options to personalize your landing page design.
Free for up to 300 subscribers, Premium plans are also available starting from $15 per month for ConvertKit.
Leadpages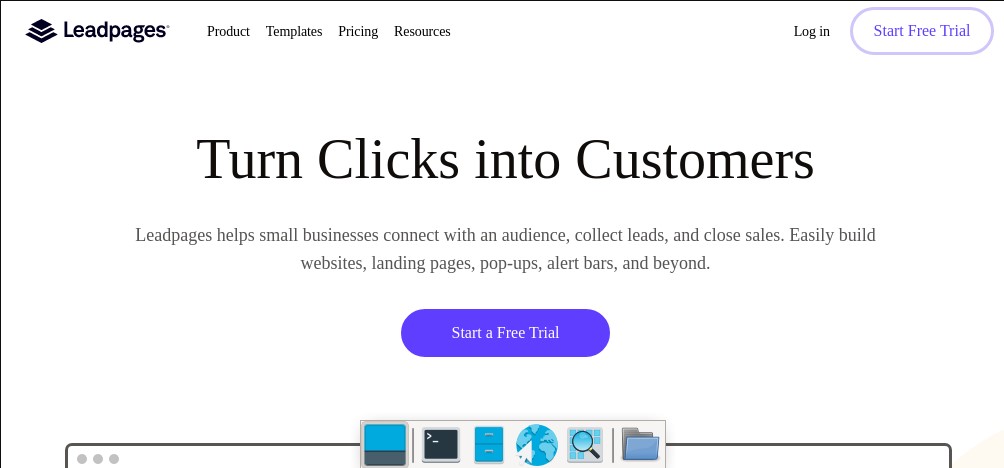 Although Leadpages offers only a 14-day trial with its monthly subscription slightly higher than its other competitors, Leadpages also comes with powerful features that make it worth the price.
As the pioneer of landing page builder with its drag-and-drop feature, Leadpages also comes with built-in conversion guides that will give you suggestions on how to optimize your landing page before publishing it.
In addition to that, their plan also comes with an unlimited number of subscribers as well as an unlimited number of pages to publish for your business.
Unbounce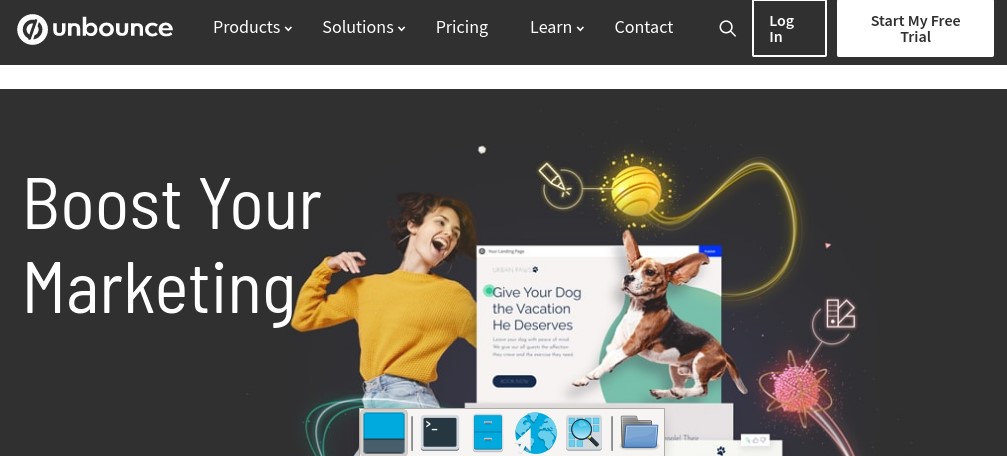 Apart from the classic drag-and-drop landing page builder, Unbounce now also comes with a smart builder feature through its Conversion Intelligence Platform.
The feature saves you time, as it will automatically optimize page sections to create an ideal landing page for your business just a few clicks away.
Unbounce also comes with Design Assistant and Smart Copy feature that will help you speed through your landing page building by recommending data-backed templates that are suitable to your industry and high-converting copy based on your targeted audience.
Starting from $90 per month, Unbounce can be an alternative if you want to automate most of the process for your landing page and beyond!
Wix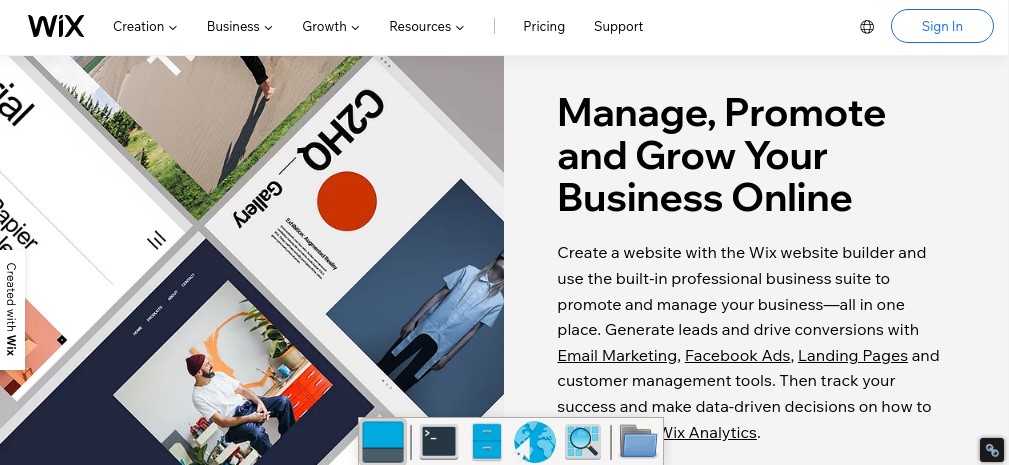 While Wix is one of the most popular website builders with its drag-and-drop feature, the platform also enables you to create a landing page from scratch using a blank page on your Wix site.
Whether you want to use the template options on Wix or you want to start designing your landing page from a clean slate, you can do it all!
It will work best if you also have your website on Wix to easily integrate your landing page into your already existing business website.
Ucraft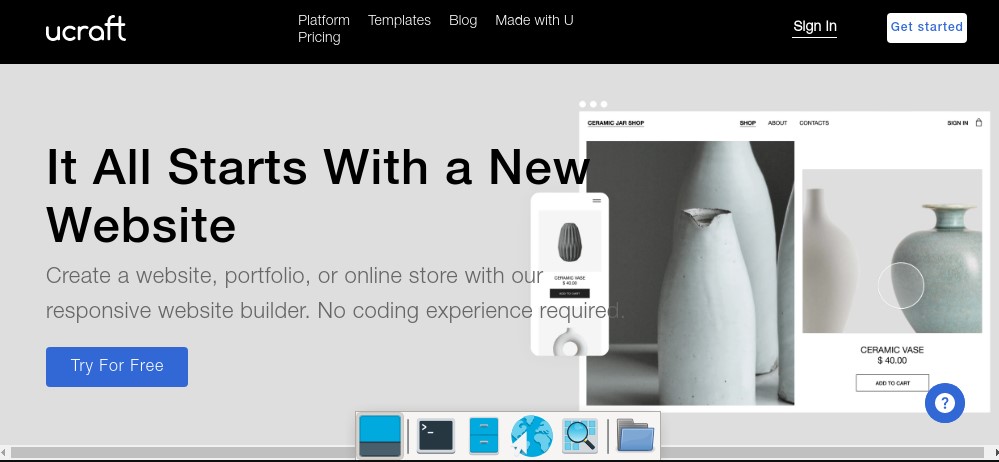 Ucraft is a user-friendly landing page builder with impressive features that go beyond just a drag-and-drop editor. In addition to that, Ucraft also comes with a logo maker and blogging platform starting from only $10 per month.
The premium plan comes with a free domain name when you subscribe to Ucraft annually. On top of that, Ucraft also allows integration with some essential tools for your website, including Google Analytics.
HubSpot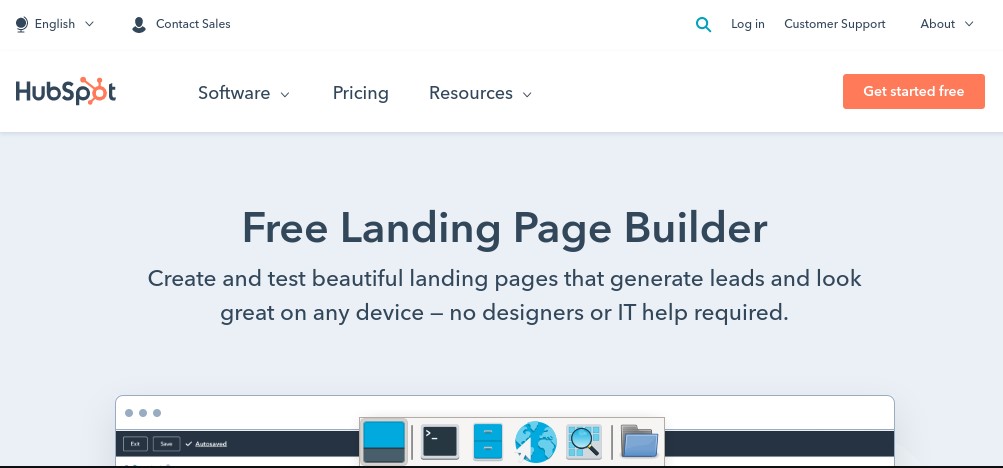 HubSpot is one of the most reputable names in the world of B2B marketing, if not the best. From CRM to a landing page tool, it offers almost everything a marketer should have!
Their landing page tool allows users to quickly design and launch professional-looking landing pages, even for newbies who have never developed a landing page before. Available with a drag-and-drop page editor, you can customize your page's content and layout according to your brand.
Instapage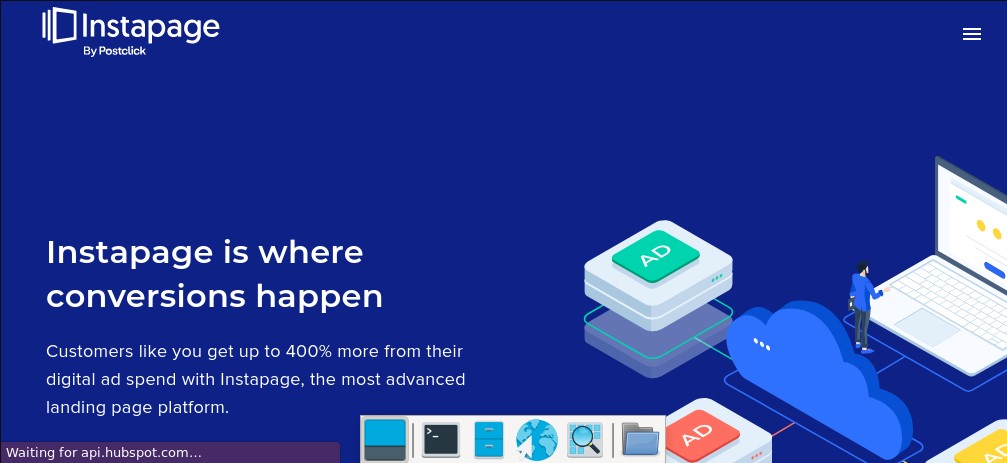 Claimed as the most advanced landing page platform, Instapage is the only landing page builder that comes with the Global Blocks feature and built-in collaboration.
With more than 500 customizable templates, Instapage also allows you to deliver a streamlined mobile experience with their built-in AMP support.
Flodesk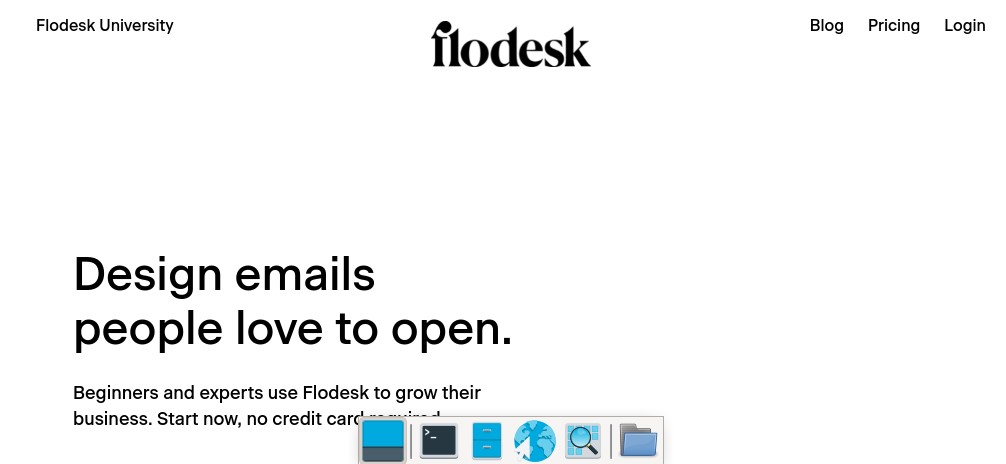 Flodesk can also be a good alternative for your landing page if you're still yet to create a business website. Although their landing page feature is limited compared to other similar platforms, Flodesk offers many beautiful templates with a relatively more affordable rate for unlimited subscribers.
However, with all limitations that Flodesk has as a landing page platform, the good thing is that Flodesk allows you to integrate the platform by creating a workflow through Zapier.
So while the landing page will be hosted on Flodesk, you can still connect the page to other website platforms like Squarespace or Shopify by creating a zap.
Conclusions
While having a website for your business is important, its main purpose is only to attract new visitors to your business. To run your business, the more important thing is to convert these visitors into leads. And to do so, a landing page can be a game-changer for your business.
A landing page is designed specifically for a certain group of targeted audience to turn them into leads and eventually paying customers. Creating a few landing pages for your business will encompass your target market's demographics so it will be easier for you to identify what works best for your business.
By building a landing page, not only will it be easier for you to generate leads, but you can also understand more about what your target market needs and how to restrategize your business to fulfill them.