Webflow and Wix are two of the best website builders in the market today. Each platform offers advantages compared to the others, making it a better option depending on what kind of website you're looking to build with it.
In this post, we're going to discuss the advantages of each platform, whether you want to use Webflow as a web builder or consider Wix a better option. For those who are still out on a limb to decide which one is the best website builder for you or your business, this guide is specifically made for you.
So, which website builder is better: Webflow or Wix?
Webflow and Wix as a Website Builder
Webflow and Wix offer two of the most essential elements in a web builder: ease of use and customization. However, each platform has its own perks, which may work better for different markets.
While both Webflow and Wix offer a drag-and-drop feature on each platform, Webflow and Wix have pros and cons, making it easier to consider which platform is the better option for you to build your website.
The main differences between Webflow and Wix are in terms of their functionality, affordability, user-friendliness, and customer service. But first, let's take a look at Webflow and Wix as standalone website builders and what each platform has to offer for its users!
Webflow as a Website Builder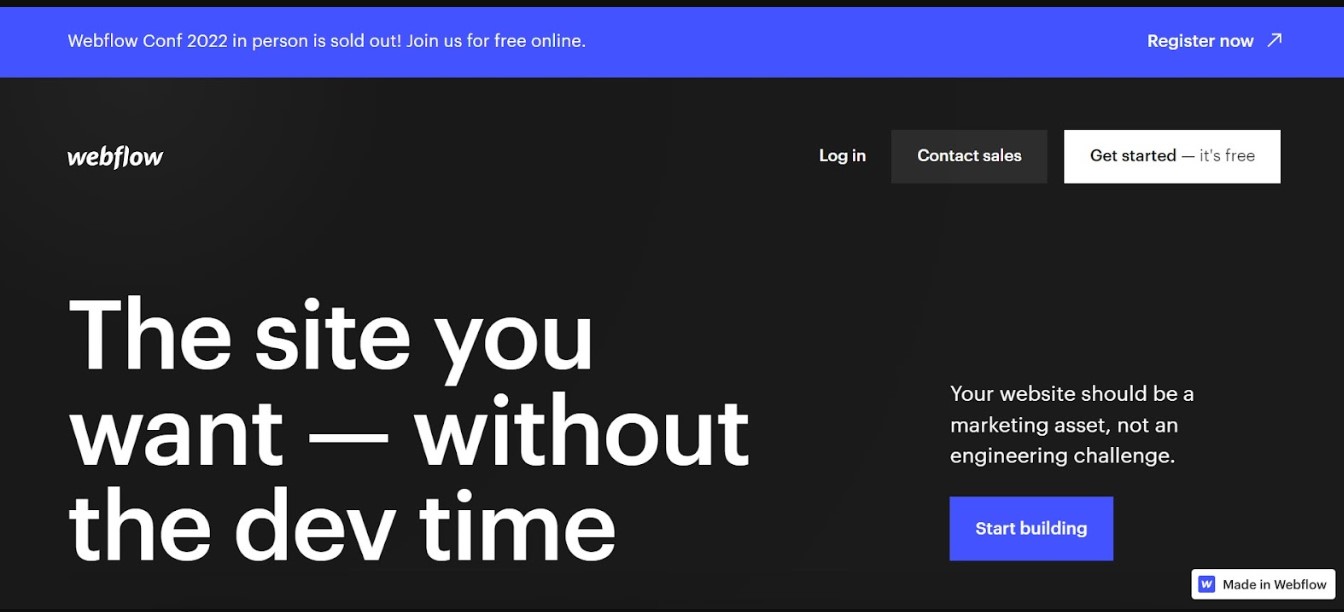 Like most website builders in the market these days, Webflow also provides a drag-and-drop feature, making it easier for those unfamiliar with the web site's technical side. However, Webflow also goes above and beyond for professional web designers as it's also equipped with the ability to add coding functions like HTML, CSS, and Javascript.
Aiming at a wide range of users, Webflow is especially suitable for businesses with an established team to work on their digital presence. While you can sign up for a free account, you can also take advantage of their monthly premium plans starting from $14.
Webflow offers an intuitive content management system, making it an excellent blogging platform. You can also opt for another blogging platform like BlogHandy by adding a few lines of code to synchronize your blog page with the existing website.
To summarize our takes on Webflow, here are some pros and cons of the platform as a website builder!
Pros:
It's a great platform for web customization. You can use the streamlined drag-and-drop feature if you don't know how to code, and Webflow brings more value if you're a professional web developer or designer who knows how to code!

They have some top-notch template options that you can use if you know nothing about web design.

A wide range of premium plans, which can be tailored based on your needs.

Rich-feature for everything you need on a website. Whether you just need a simple website builder with templates or e-commerce and marketing tools, you can get them here!

Easy integration with BlogHandy for blogging.
Cons:
The learning curve is a bit steep compared to other website builders like Wix or Weebly.

Customer support is only available via e-mail.
Wix as a Website Builder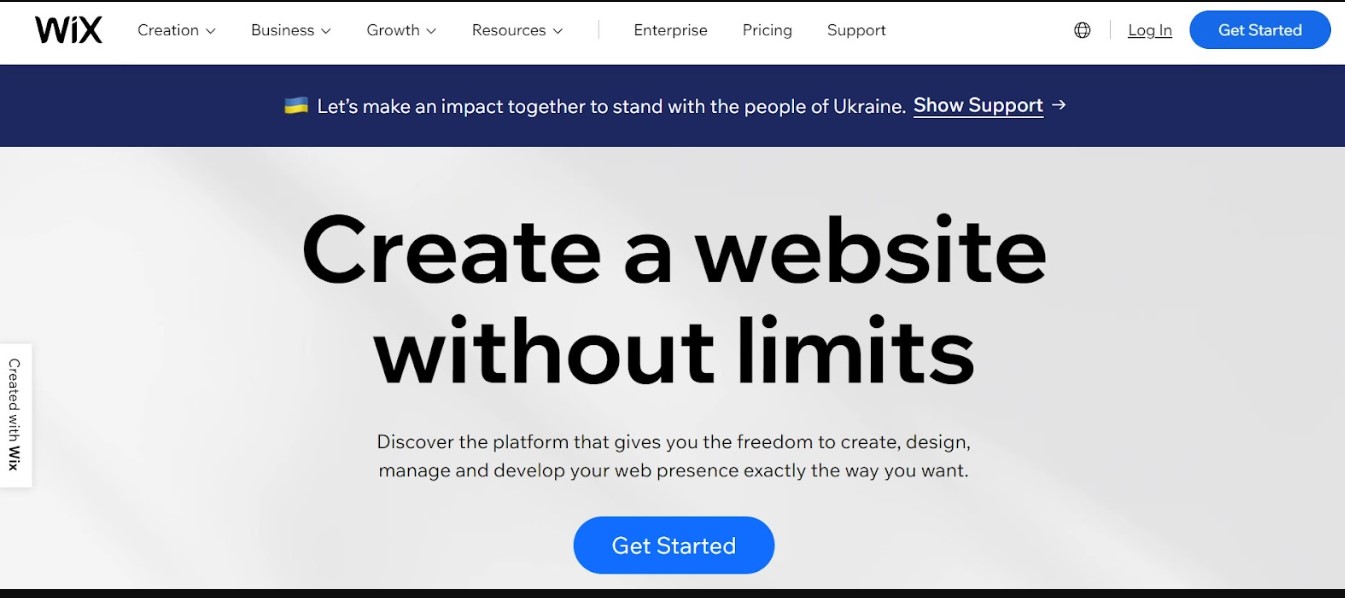 One of the most well-known website builders in the market, Wix mainly targets beginner users as the platform is equipped with functionalities that come in handy for those who build a website from scratch.
The drag-and-drop feature is their main advantage compared to other web builders, and they also have Wix ADI (artificial design intelligence) as the additional feature that makes it even easier to build a website in no time!
Known as one of the easiest platforms to build an e-commerce website, you can also sign up for a Wix account for free. While it comes with limitations, it's worth a try if you try to familiarize yourself with the platform. Once you're ready to invest more in your business, the premium plan starts from $4.5 per month if you want to add a custom domain. For e-commerce, the lowest monthly package starts from $17.
So, what's our take on Wix? Here are some pros and cons of having Wix as your web builder!
Pros:
Wix ADI feature gives you a better experience to start a web from scratch in almost no time!

Their drag-and-drop feature is super easy to use, making it suitable even for beginners.

Wix offers extensive features you need for a business, from a regular e-commerce website to an app store!

A wide range of template options that are optimized for UI/UX.

You can start an e-commerce website for as low as $17 per month!

You can integrate your Wix website with BlogHandy by adding a few lines of code.
Cons:
Wix template is not interchangeable, so you must build your website from scratch if you want to change your template.

Wix is not an all-in-one website builder, as many features require you to pay extra.
Webflow vs. Wix
Now that we know both platforms' advantages and disadvantages of both platforms, it's time for us to compare Webflow and Wix to find the best website builder for you!
So, is Webflow or Wix a better option for you?
Webflow vs. Wix: Which one is more user-friendly?
Wix is mainly known for its user-friendliness as its primary target market is beginners who want to start a website from scratch without any advanced technical knowledge of web development or web design. It gives Wix the advantage over Webflow, as the latter seems suitable for professional webmasters.
While Webflow also has a similar drag-and-drop feature as Wix, the Wix interface is more intuitive and can be easily followed by beginners. Meanwhile, Webflow has some more complex sections, which can be slightly overwhelming if you don't know anything about web design.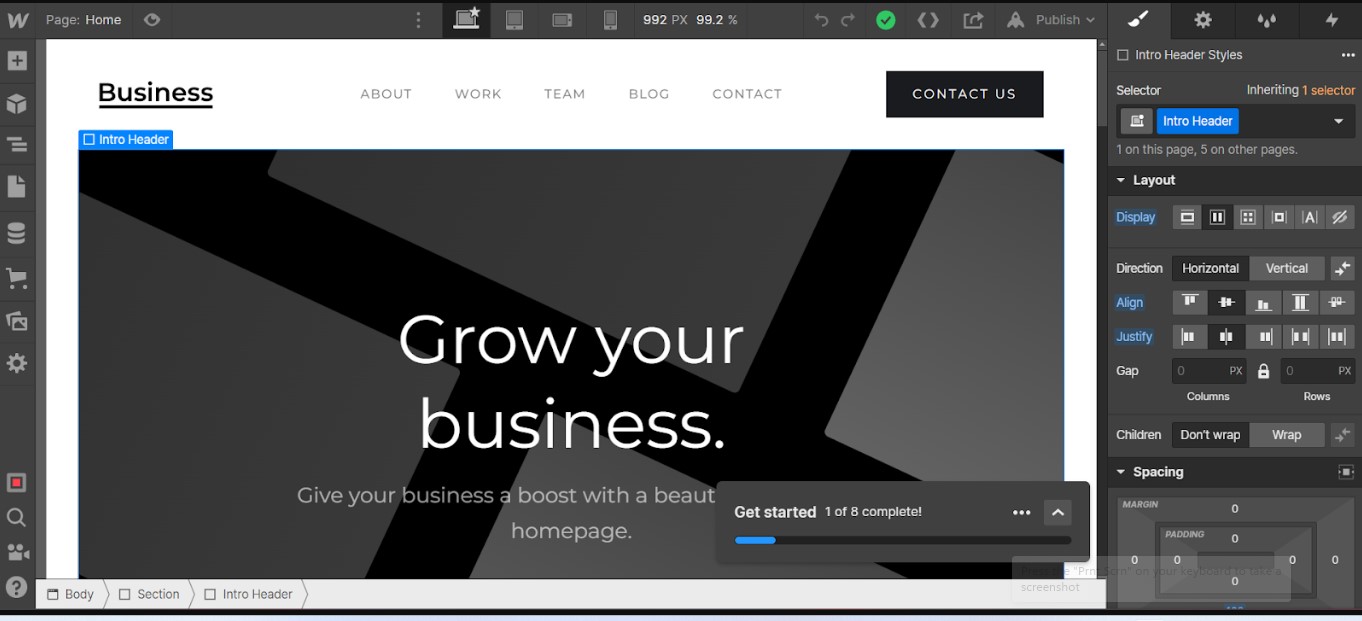 However, the complexity that Webflow offers in their platform can also be an added value if you know what you're doing for your website. It provides better ways to customize your website and impose your branding identity with the ability to add coding options like HTML, CSS, and Javascript.
So, in terms of its functionality, Wix is more user-friendly than Webflow as it's designed to make it easy for beginners to start their first website.
Webflow vs. Wix: Which one is more affordable?
When it comes to pricing, Webflow and, Wix offer various perks for their customers. The good news is that both platforms offer free plans that users can take advantage of before upgrading to their premium plans.
Wix offers a free plan for up to 500 MB bandwidth, while Webflow seems to be more generous as their free plan includes 1 GB bandwidth. As for their premium plans, I find Wix more suitable if you manage your website on your own while Webflow is a better option if you want to share access with your team members.
For instance, the most basic option for the premium plan on Wix starts from only $4.5 per month, which seems quite fair if you only use your website for a company website or a landing page. For blogging, with just a $1 traction with Webflow, you can even upgrade to the VIP plan on Wix and be eligible for unlimited bandwidth.
However, if you run a website with your team, Webflow seems to offer a better option, as some of their premium plans include communal access for the team members. Webflow is also great if you're looking into creating an e-commerce website with advanced functionality.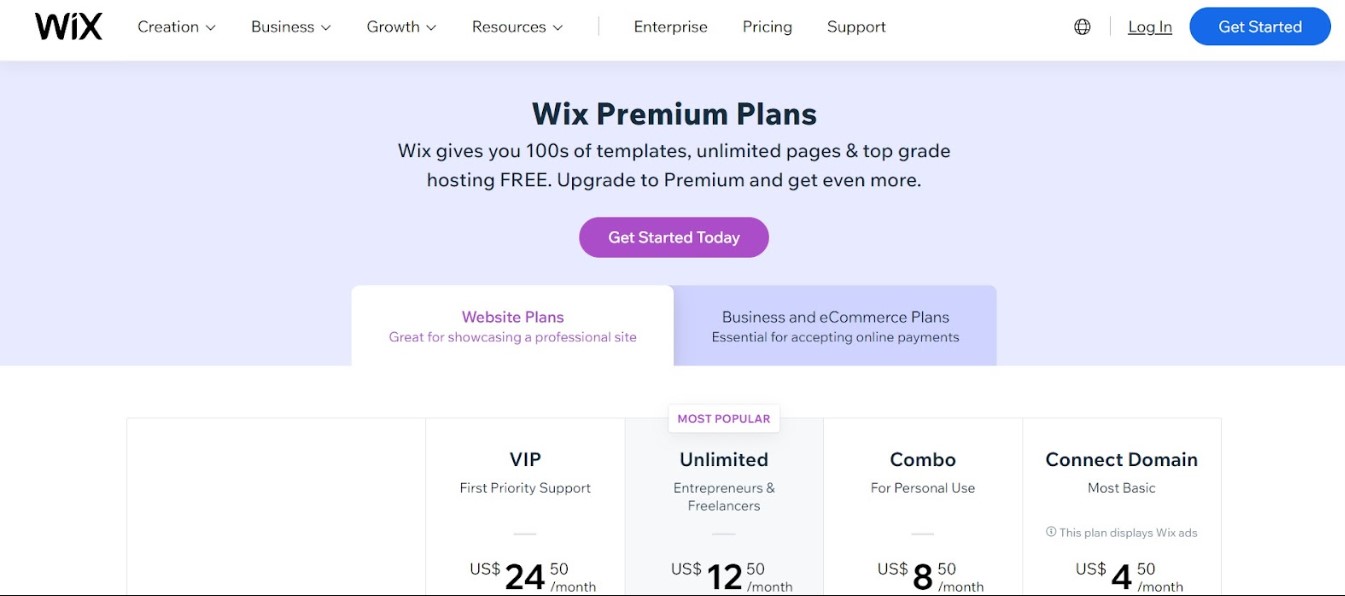 If you're only looking into the pricing alone for each plan, Wix is more affordable than Webflow. Although if you also look at some other indicators and features provided by the two platforms, Webflow seems to offer more added value in their web builder.
Webflow vs. Wix: Which one provides better customer service?
Webflow and Wix provide customer support via e-mail, while they also offer various tips related to their platform through blog posts and forums, which can be super helpful to add your knowledge to optimize the use of each platform for your website.
Wix The Help Center page seems quite comprehensive and intuitive, making it easier to solve any issues you encounter while using Wix as a website builder. On top of that, you can also get priority customer service if you subscribe to Wix's VIP Premium plan for your website.
Meanwhile, Webflow provides its 'University' section where you can stumble across various helpful tips and tutorials to get you started. However, the interface of their University page can be a tad bit confusing with the lack of a search section to address the issue you want to solve in their platform. Another downside is that the button to connect with their customer service on Webflow is also not as straightforward as Wix.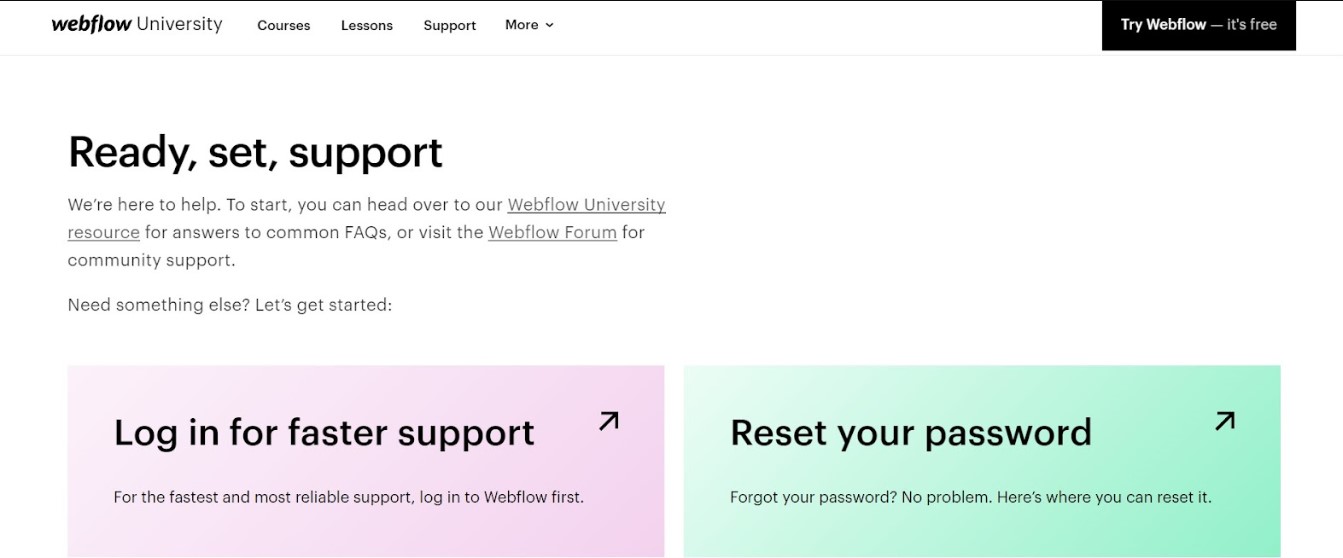 As a result, I think Wix offers better customer service than Webflow, as it offers various forms of support that are not only streamlined but also straightforward. Not to mention that you have the option to get priority support as a VIP customer.
Webflow vs. Wix: Which one offers better templates and features?
If you're looking to create a website with easy-to-use templates and rich features, Wix seems to come to the top of your mind for many reasons. It offers more than 500 free templates that you can use and customize, with the help of an artificial intelligence designer, which makes it even easier to run a website instantly!
Webflow also offers various templates you can customize for your website. However, from over 200 templates they provide on the platform, Webflow only has around 30 free templates. That being said, you need to pay extra for some premium templates, which can be a downer if budget is your concern.
In terms of features, Wix is also a winner since it also offers a great suite of tools that enable you to create a built-in app store for your business. The feature isn't available on Webflow, so if you want to create an app store for your Webflow website, you will need to use a third-party tool to build an app from scratch.
Needless to say, Wix seems to be superior to Webflow when it comes to templates and features. The only advantage that Webflow has over Wix is the ability to independently add HTML, CSS, and Javascript. However, with some limitations, you can still use HTML or CSS on your Wix website.
Webflow vs. Wix: Which one is better for blogging?
Webflow and Wix have native SEO tools that can help optimize your blog posts, although Webflow should be a winner in the blogging section. While the SEO wizard on Wix should be good enough to follow through, Webflow goes above and beyond with its built-in functionality, which includes an indexing function, redirects, and SEO markup.
The good news is that either Webflow or Wix can be easily integrated with BlogHandy, a tool to simplify your blogging journey. By adding a few lines of code, you can optimize your blog for SEO with built-in social sharing tools.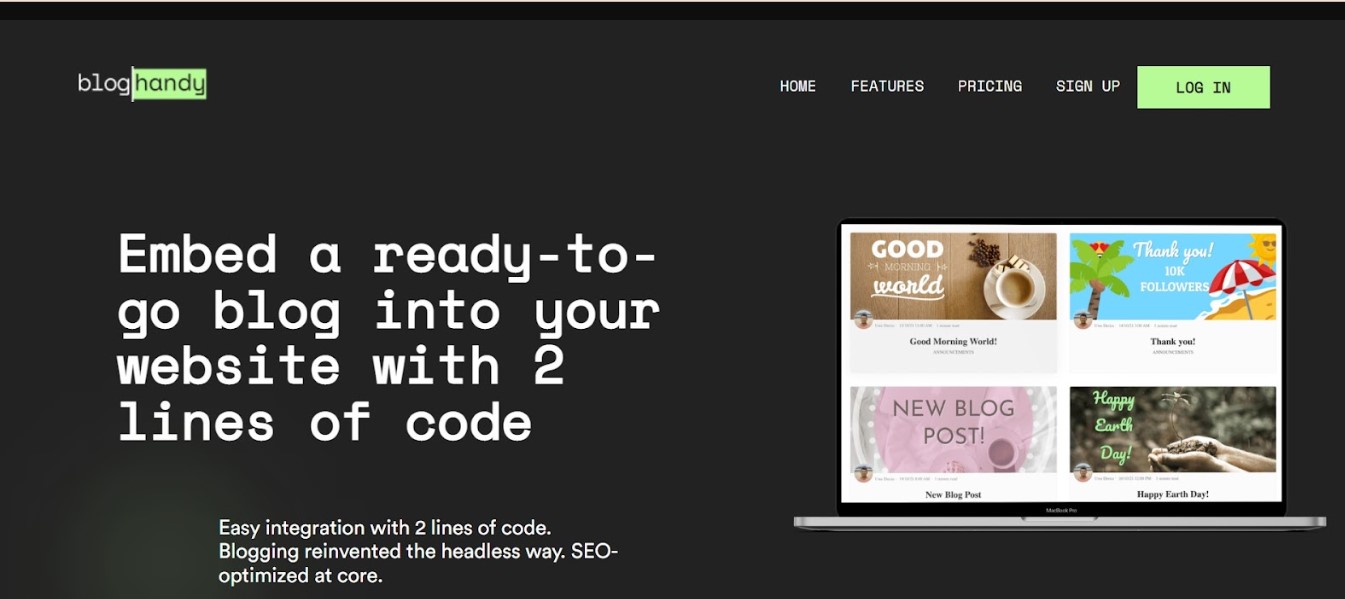 Conclusion - Webflow vs. Wix: Which one is a better website builder?
Webflow and Wix come with their own perks and disadvantages that can be pivotal in each user's purchase decisions. Wix seems to be an all-in-one platform with everything you need for a website, and it's super easy to use even though you have no previous knowledge of building a website.
However, Webflow also comes with some added value ideal for professional website developers and designers. Compared to Wix, Webflow is more customizable, making it a perfect platform if you want to upscale your digital presence.
No matter which platform you find the best for you, you can enhance your blogging journey to optimize your website by integrating with BlogHandy. Sign up here for free, and level up your website through your blog page now!