Having a business website up and running has become a necessity these days, and this is one of the many reasons why no-code tools for website design and development have become increasingly popular. Among many other options in the market, Webflow is one of the most well-known no-code tools for your website.
While there are some other website platforms that don't require coding skills to develop and create a website, Webflow offers many advantages compared to its competitors. For instance, if we compare Webflow and Wix, Webflow has a few more added-value as it offers more advanced features that allow users to add coding options with HTML, CSS, and Javascript when needed.
In this post, we're going to share some insights about Webflow as a no-code tool for your website and how it can be suitable for developing your business website. So, why is Webflow the ultimate no-code tool for your website? Let's find out!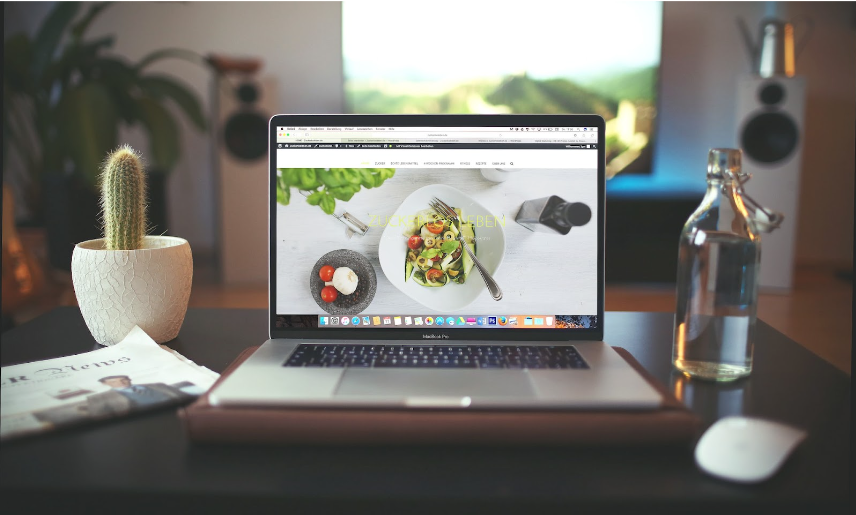 4 Reasons Why No Code Tool is Suitable for Your Business Website
No code tool for web design and development like Webflow provides a quick and easy way for anyone to create a professional-looking website, making it a perfect platform for small business owners who aren't tech-savvy but want to step their foot correctly and start their digital presence.
Tools that don't require coding skills for web design and development are suitable for anyone looking into building their website on a budget without any technical skills.
If you're not sure whether web platforms like Webflow is suitable for your business website, here are some advantages you can get from using a no-code tool for your website!
Cost-effectiveness. No-code tools for website building are more likely less expensive than hiring a professional web developer, and you can even make a DIY website using your limited web design skill even if you know nothing about coding.

User-friendly interface. Website builders that require no coding skill, like Webflow or Card, usually offer a simple drag-and-drop interface that is quite intuitive, even for beginners.

Time-saving. With no manual coding to implement when you build your website, no-code tools for your website will also save you a significant amount of time to finalize.

Customization options. As these website builders usually cater to users with limited to no technical skills in web design and development, no-code tools often provide a range of customization options that allow users to create a unique website regardless of their limitations in the skillsets.
Web builders equipped with no-code tools are also great if you don't have the technical skill and a limited budget to hire a professional but want to explore the idea of creating a website on your own. So, is no code tool like Webflow suitable for your website? Yes, if you're a solopreneur or a small business owner who wants to minimize the cost of web design and development!
7 Reasons Why Webflow is a Great No Code Tool for Your Website
Webflow is a popular website builder known for its flexibility and design capabilities. It provides a visual editor that allows users to build websites without coding, while also offering the option to add custom code using HTML, CSS, and Javascript.
Some users prefer Webflow as it's a great platform for creating a business website, especially with the features that enable them to work as a team. As their tagline says, Webflow is used by more than 3,500,000 teams to collaborate, as the platform has some great tools that are suitable for web designers, web developers, and marketers.
In this section, we're going to dive into some ultimate reasons why Webflow is a great no-code tool for your website to find out whether Webflow is a good option for your web design and development.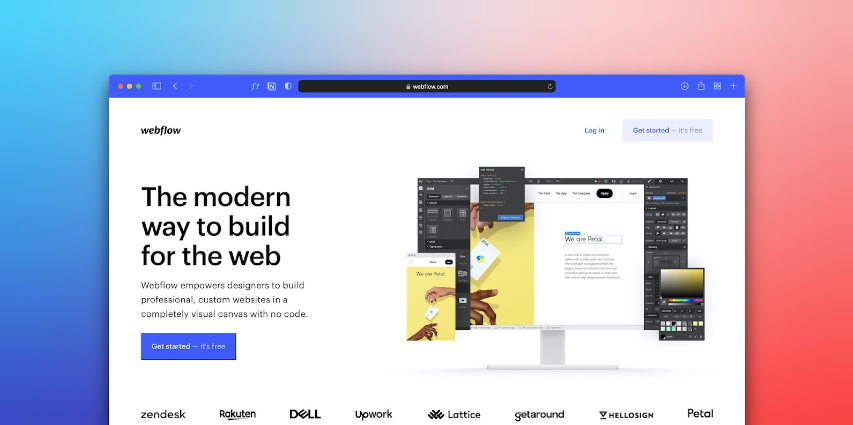 1. Webflow is user-friendly
Webflow provides an intuitive interface with a visual editor that makes it easy to build professional websites, even when the users don't know how to code. As a website builder, Webflow also offers a range of pre-designed templates and elements that can be easily customized to suit your needs and preference.
Even if you're a beginner trying to create a website from scratch, Webflow also offers a wide variety of tutorials and resources accessible through their Webflow University section. All these materials are free to use, which can help you create a better website through the platform.
Despite its user-friendliness, Webflow also offers more advanced features that may not be available in some other drag-and-drop web builders. While the features may seem tedious for beginners, they can be of great value for more advanced users who want to use their technical knowledge and implement it through their websites.
2. No coding is required to create a professional website on Webflow
Webflow has over 1,500 highly customizable website templates, making it easier to create a professional website without adding any code.
The platform also provides a visual editor that comes with drag-and-drop functionality. On top of that, Webflow also allows professional users to implement additional coding in HTML, CSS, and Javascript, making it a great platform that opens up the opportunity for more creative freedom if you're a professional web developer or web designer.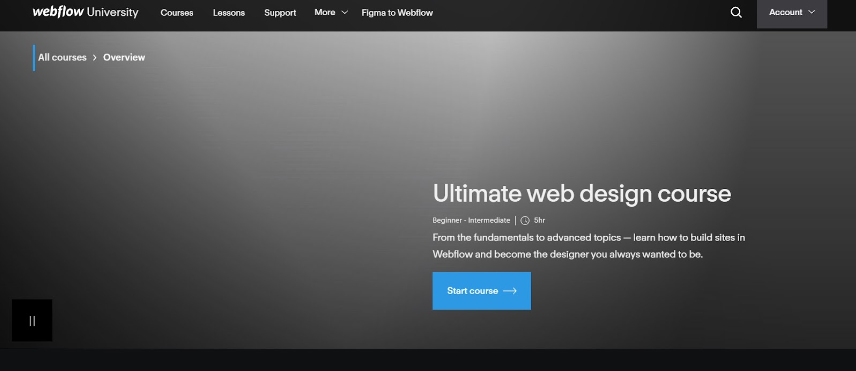 So, while creating a professional website on Webflow is possible for a beginner user, having some technical knowledge can also enhance your experience and allow you to create a website with some additional functions with the platform.
3. Webflow provides customizable and responsive design
Apart from a wide range of design options and templates, Webflow also comes with a feature that automatically creates a responsive design for your website that adjusts to different screen sizes, including desktop, tablet, and mobile devices.
In general, Webflow is a reliable platform that can help you create a responsive design for your website. However, the quality of the responsive website that you create on Webflow will also rely on your skills and attention to detail. The good news is that Webflow also provides a visual editor that showcases the preview, so it will be easier for you to adjust your design so your website can be responsive across the platforms.
With its flexibility to check the responsiveness and adjust the customization of the website, Webflow is definitely a great platform to create a unique website for your business without the need to add any custom code!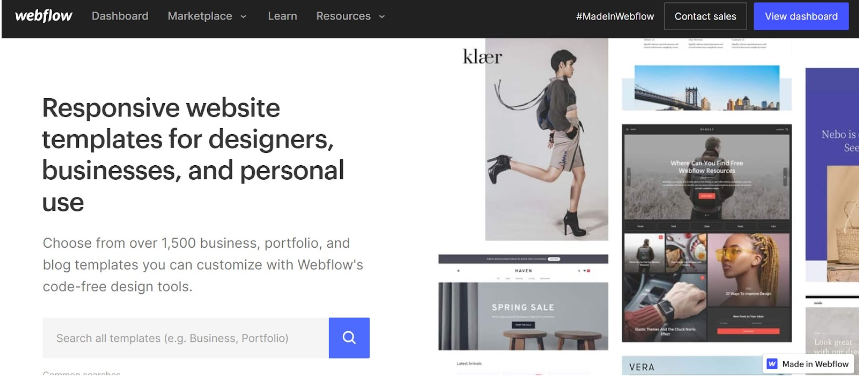 4. Webflow is a great platform to work as a team
Webflow is especially great if you work with a small or even a bigger team for your business, as it provides collaboration features that allow you to work together on the website. As highlighted in their tagline, Webflow claims to provide the help of artificial intelligence to manage and organize teams on their platform.
The collaboration features on Webflow include the following:
Sharing a project with team members, allows you to grant them access to your project settings.

Task assignment enables you to assign different roles to different team members by giving them permission for each specific role.

Team dashboard that provides an overview of the projects and team members. This page will make it easy to track the progress and hold you and your team accountable for the assigned tasks.

Comment and feedback feature to enhance collaboration among your team members.

History tracking to view the changes made over time and revert to the previous versions if necessary.
By utilizing these features, teams can work efficiently and effectively on a Webflow project, whether as web developers, web designers, or even marketers who work mostly on content development and management.
5. Webflow offers a built-in content management system
While Webflow comes with a built-in CMS that makes it easy to manage and update your website content, with the flexibility to add a custom code on Webflow, you can also add additional tools like BlogHandy when necessary.
Combining BlogHandy and Webflow can offer you a higher functionality for your website, as not only that it's easy to implement, but it also comes with built-in SEO and social sharing tools that can help you optimize your content and rank higher through your blog posts.
With the combination of an SEO-optimized content management system on BlogHandy and the responsive website created on Webflow, it will give you some great benefits for your business website, including:
Improve your user experience as a responsive website will provide an optimal viewing experience for your audience. It can lead to higher engagement and improved conversions for your business in general.

SEO-optimized content will help search engines understand your website's relevance and content, promoting increased visibility for your business website.

Higher search engine rankings can lead to increased traffic to your business website, which can also drive more leads and sales for your business.

A well-designed business website and valuable content can help build your business credibility as a trustworthy source in your niche or industry.
Find the two lines of code on your BlogHandy dashboard, and add them as custom code on your Webflow editor page to incorporate a search engine-optimized blog section on your business website.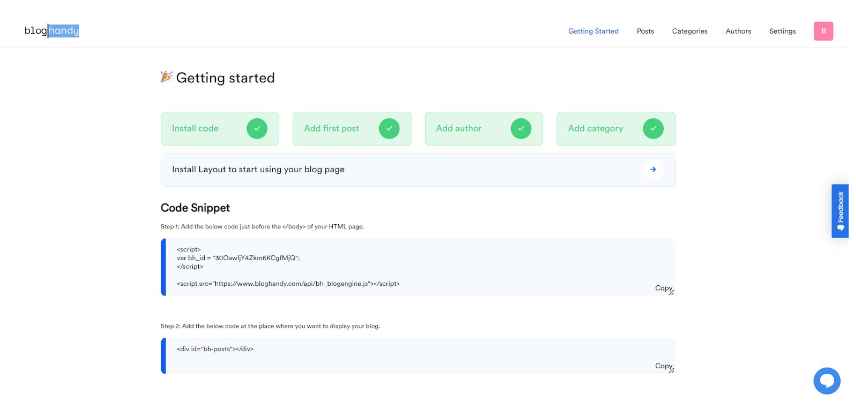 6. Webflow comes with some e-commerce functionalities
Webflow allows users to build and manage an online store directly within the platform, making it a good option to build an e-commerce website without having to add a manual code when developing the website.
Despite its ease of use and versatility, Webflow also has some limitations in terms of its e-commerce functionality, including limited payment options and inventory management.
However, Webflow also offers some easy integration using a third-party tool like Zapier to connect your website with over a thousand platforms, including invoicing platforms like InvoiceBerry or payment gateway apps like Square or Paypal.
7. Webflow is affordable for small businesses and enterprises
On top of the rich features that Webflow offers for small businesses and enterprises, Webflow also offers affordable packages starting from $14 USD per month.
Even if you're not ready to invest in the premium features for your business website, you can also sign up for a free Webflow account that allows you to create a free website to practice your web design and development skills.
For e-commerce websites, they also offer affordable plans compared to other website builders starting from as low as $29 USD per month. The price range is suitable for small businesses and enterprises ready to showcase their businesses and products through their digital presence on their website.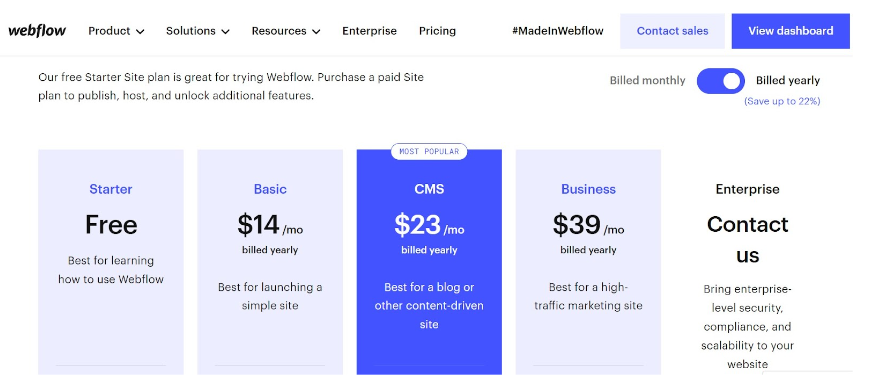 Conclusion
Creating a business website is important even for small businesses and enterprises, as it gives you a platform to reach a large audience for 24 hours that showcases your products and services. Your business website can also serve as a central hub for your social media, advertising, and other digital marketing efforts, which can streamline the marketing campaign you create for your business.
If done correctly, content marketing can also be highly effective for businesses which make blogging quite popular as a part of marketing strategies for small businesses and enterprises. By consistently creating valuable content that addresses the needs and interests of your target audience, you can establish your business as a thought leader within your niche and industry.
Webflow is a great option if you're looking for a website builder that requires no coding skill to create a customizable and responsive website. If you're planning to implement the content marketing strategy for your business, sign up now to embed a ready-to-go blog into your Webflow website so you can start creating and optimizing content with BlogHandy!